Welcome to the Minecraft server hosted by Dr. Stephens. The server is currently running Java Minecraft 1.19.2 and I'll keep it updated to the current release as new releases come out. It is a vanilla server in normal mode with PvP turned off. It runs on a server at my house. You are welcome to join in if you like. There are only a few rules:
No griefing
Don't destroy things made by other players
Have fun, explore, and build cool stuff.
When you join the server for the first time, there are a couple of buildings, one is a house with some beds (in case it's night when you join) and the other contains chests with some basic supplies. Feel free to take one of the chests and its contents for a small boost if you want to start. I check on them and refill them when they are getting low.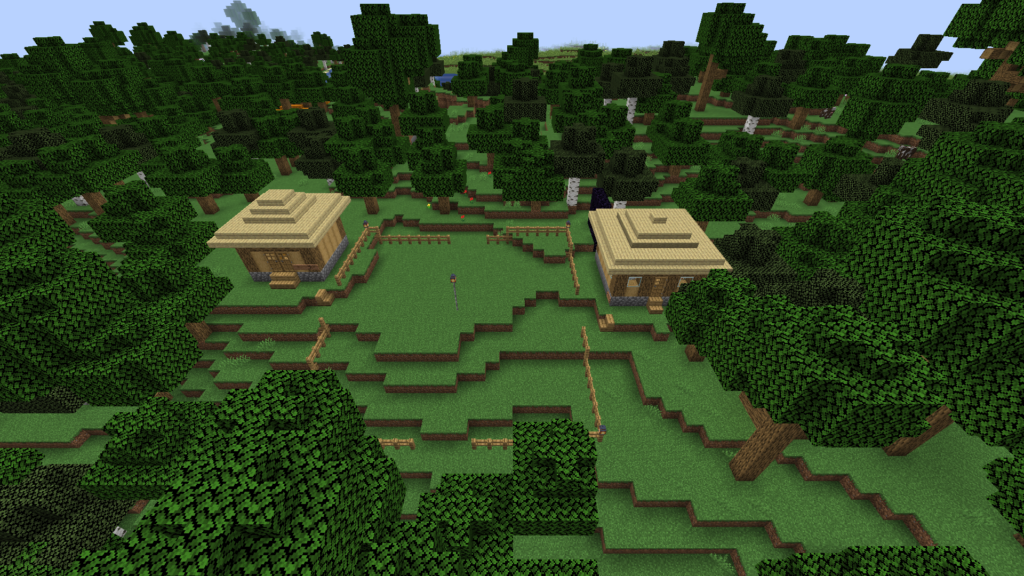 Eventually as you do a little exploring, you'll probably run across my tower.
Near the tower is a trading post with lots of villagers (mostly librarians) and a massive storage and sorting system. Feel free to use any of the resources in the bins. Those with glowing item frames have farms connected to them and will refill over time. If you have excess items, feel free to drop them in the chest up by the farmers and they will get sorted into their appropriate chests (or put into the overflow chests). Not every slot is storing items yet so as I see things showing up in the overflow chests, I'll be creating slots for them. And if we fill up all the slots, I can expand the storage system along any of the arms. I like to build automated systems so if you have ideas for one, let me know and I'll see about adding it to my collection.
Also in front of the tower in the picture above is the map room. I've built a large map (20×20 double-binned maps) of the area around the tower. This map was built while the server was running version 1.18.2 so everything on that map was generated in that version of the game. Feel free to consult it for ideas of where to go to find interesting parts of the world. Finally, I wouldn't recommend delving within about 100 blocks of the tower. All the farms that feed the storage system are under that mountain and you might break something.
Now for the part you've been looking for. Here's the address of the server:
expandingfrontier.com:32767
Join the server. Venture forth. Explore. Share what you build. And most importantly, have fun!
– Dr. Stephens
Some Server Details
For those that want a few more details on the server, here you go:
MInecraft version:

Original: Java 1.18.2
Current: Java 1.19.2

Max players: 30 (this can be raised if it is ever an issue)
playerSleepPercentage: 100% (if this ever becomes an issue, we can change that)
Server view distance: 32 chunks
Server simulation distance: 16
Max build height: 256
PvP: off
Keep inventory: off
Spawn protection: 10 (the grassy field inside the fence)
If you want to know other details, let me know.