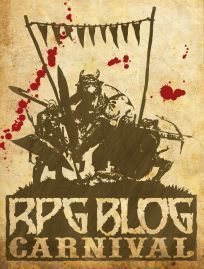 It's the end of the month and time for a wrap-up on this month's RPG Blog Carnival. Regular readers of my blog know that I normally do a "State of the Frontier" post on the last day of the month, that post will be up tomorrow. Today we're going to look at the various entries in this month's blog carnival topic, Organizations.
I don't know if the topic wasn't very appealing, people were crazy busy, or if the blog carnival is losing steam but we did not have a lot of submissions this month. I know I'm guilty of not doing an article every month as sometimes I'm strapped for time or just don't have the inspiration to bend the often fantasy themed topics to sci-fi. But I was hoping this month's topic of organizations would be broad enough to appeal widely, I guess I was wrong. That said the entries we did get were great.
First up was Building a Financial Landscape with Megacorps by Phil Forbes on the Stray RPG Thoughts blog. This entry discusses how to use Keith J. Davies' Polyhedral Pantheons system to, instead of creating gods for a setting, create a series of mega-corps that are the main influencers in a setting.  Phil then goes on to apply the system to the local branches of the mega-corps and the local markets they are operating in.  This provides a rich framework of connections and competing interests for the players to interact with.  I found this one interesting as my preferred setting, Star Frontiers, already has a pantheon of canonical mega-corps controlling various interests throughout the setting.  I'm definitely going to take a look at this system for expanding these interactions.
Next up was an entry by Andrew Girdwood on the Geek Native blog.  He gave us a random secret society generator. You can never have enough random names on hand and this generator gives you an infinite supply.  You choose a general genre (Contemporary, Horror, Low or High Fantasy, or Sci-Fi) and then generate a name.  You can keep clicking to get new ones or until you find one that sparks your imagination.  The second one I got on his sci-fi generator was "The Eternal Planet Faction."  I immediately thought of a tie-in with the True Yazira society that I posted as part of the kickoff of this month's carnival.  In this case, it's not part of the True Yazira Society, but a faction within the Family of One and the GODCo mega-corp that is trying to recreate their homeworld.  I might write that up in the future.  I'll definitely use it at some point in my game.
Next was the entry by Gonz from Codex Anathema with their entry on the Silver Arrows, a loose, crime-prevention organization that might be part of the Church of the Silver Flame in their Ebberon campaign.  They even provide a variation on the Arcane Archer archetype to play a member of the Silver Arrows.
As host, I offered up two different organizations. The first as part of the kickoff post, was the True Yazira society, primarily a cultural organization striving to preserve the traditions of their homeworld but also opposing the practices of the group that has usurped authority (as the True Yaziria Society sees it) from the rightful rules of their species.  The second was the Investors, as shadowy, behind-the-scenes organization that works to influence governments and corporations to increase their own wealth and power.
That's it for this month's RPG Blog Carnival. I hope you found a nugget you could use in your game from this month's posts or were inspired to generate some new organizations for your world even if you don't blog or didn't submit an entry.  For me this is just a springboard as I plan to present various organizations from my setting in future posts, not just part of the Blog Carnival.  I have several ideas lined up, I just need to find the time to write them down and get them posted.
Next month's entry is still TBD but be sure to check out the RPG Blog Carnival's home page on the Of Dice and Dragons blog to find links to past and future topics. And come back tomorrow for my regular "State of the Frontier" Post.