For those in the United States, there are two major eclipses happening in the next 10 months and as always, you want to have proper eye protection to safely observe the sun during these events. If you want details on the eclipses themselves, read on, or, if you just want to get straight to purchasing your eclipse glasses, jump to the bottom of the page.
Remember, while it's possible to observe the solar corona with your naked eyes during totality in a total solar eclipse, viewing the sun at any other time without protective eye wear can cause serious damage. These glasses provide the protection needed in order to safely view the sun during the eclipse.
The Eclipses
Oct 14, 2023 Annular Eclipse
First, there is an annular solar eclipse that will occur on Oct 14, 2023. In an annular eclipse, the moon doesn't completely block the disk of the sun but rather the sun forms a ring (annulus) around the moon if you are on the central path of the eclipse.
This eclipse will be visible as a partial eclipse across almost all of North America. The annular eclipse line runs from Oregon, through Nevada, Utah, Arizona, New Mexico, and Texas as seen in the map below. It starts at 9:13am PDT in Oregon and leaves the Texas coast at 12:03 pm CDT.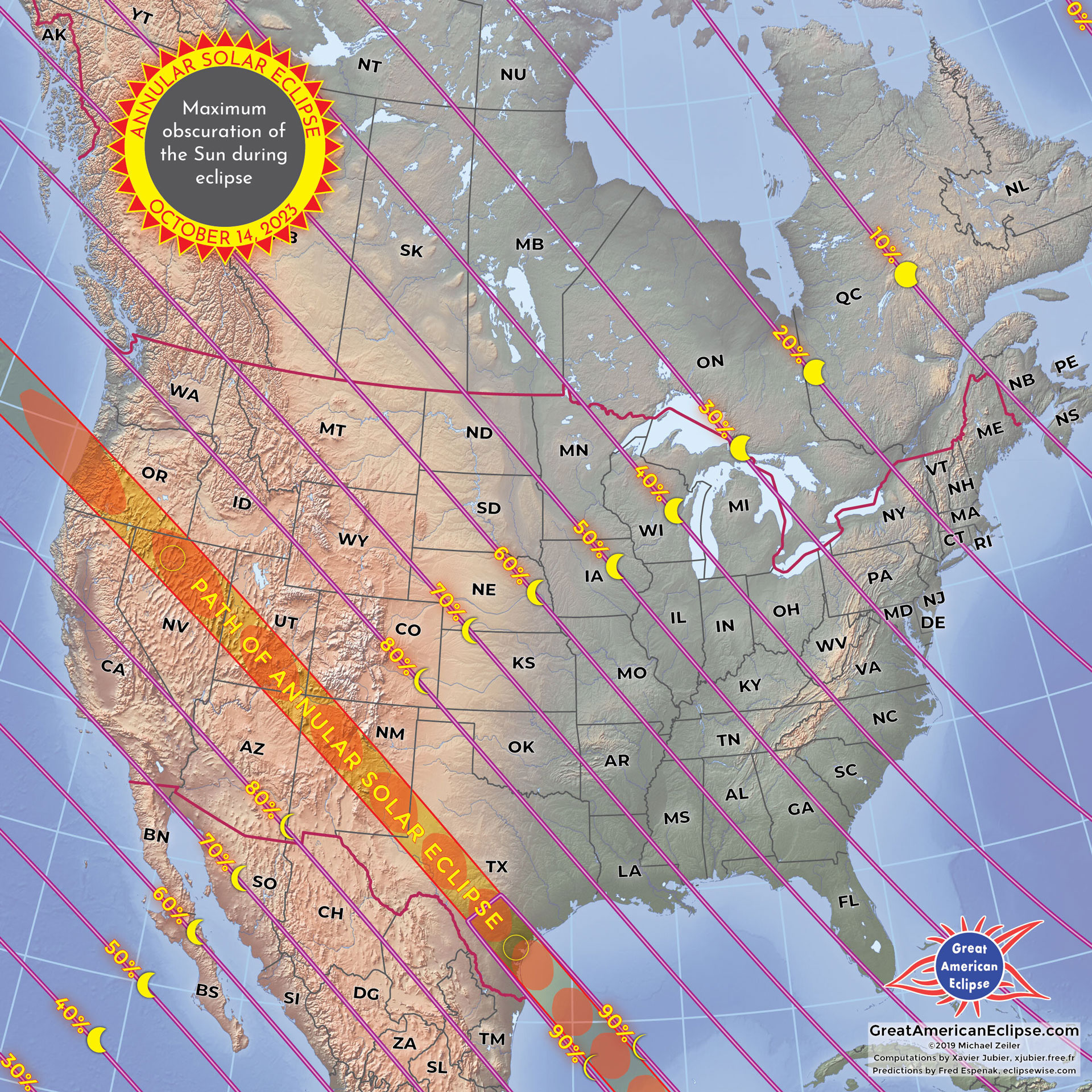 It also passes through Central and South America. For full details on the this eclipse, visit NASA's page for all the information.
You will need solar glasses to observer all parts of this eclipse.
April 8, 2024 Total Solar Eclipse
The big event occurs on April 8, 2024 when a total solar eclipse will cross North America, starting in Mexico, entering the US in Texas and racing up across the country to Maine and then out through eastern Canada. Again, this will be visible as a partial solar eclipse anywhere in the country but the best views will be on the eclipse track shown in the image below.
Totality hits Dallas, Texas at 1:40pm CDT and passes through Maine at 3:32pm EDT. You can find full details about the eclipse and its path on this NASA Eclipse website. While you can observe the eclipse during totality without safety glasses, they are required at all other times.
Ordering the Glasses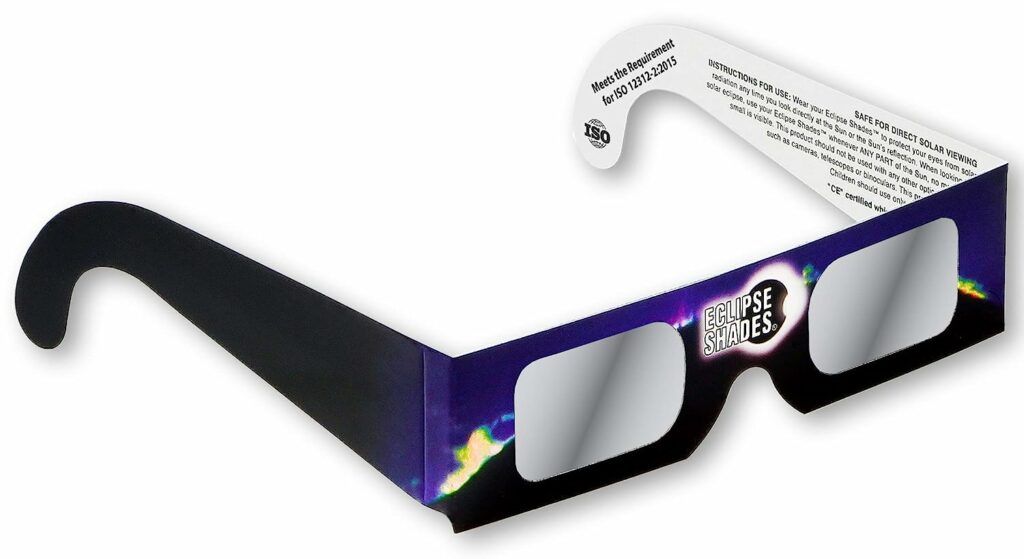 Glasses are currently $1.00 each. As we get closer to the eclipse dates, the price may go up as supplies run low. Please order early for the best price and to ensure we have not run out of stock.
The glasses have an optical density of 5 or greater and are ISO 12312-2 compliant and CE certified. The manufacturer has had them independently tested and they are safe for viewing all phases of an eclipse and for general solar viewing.
The glasses are printed with a random logo/pattern and have instructions for safe solar viewing on the back. We have a number of shipping options based on the number of glasses you want to order and how fast you want to get them. We also allow local pickup if you live in Utah Valley, Utah. To pay by credit card, simply select the "Buy Now" button for the shipping option you want. You'll be prompted to select the number of glasses to order and then you can complete your order. If you want to pay by cash or Venmo, or have other questions, send me an e-mail at eclipseglasses@expandingfrontier.com and we can work something out. Similarly, if you want to order more than 50 glasses and have them shipped, contact me at the e-mail above and we can work out the details.
Who are we?
Denise Stephens is a professor of Physics and Astronomy at Brigham Young University. Tom Stephens is a professor of Computer Science at Brigham Young University. We're using Tom's website to easily supply glasses to the Utah Valley area but will gladly ship anywhere in the United States. We are selling these glasses personally and sales are not affiliated with Brigham Young University.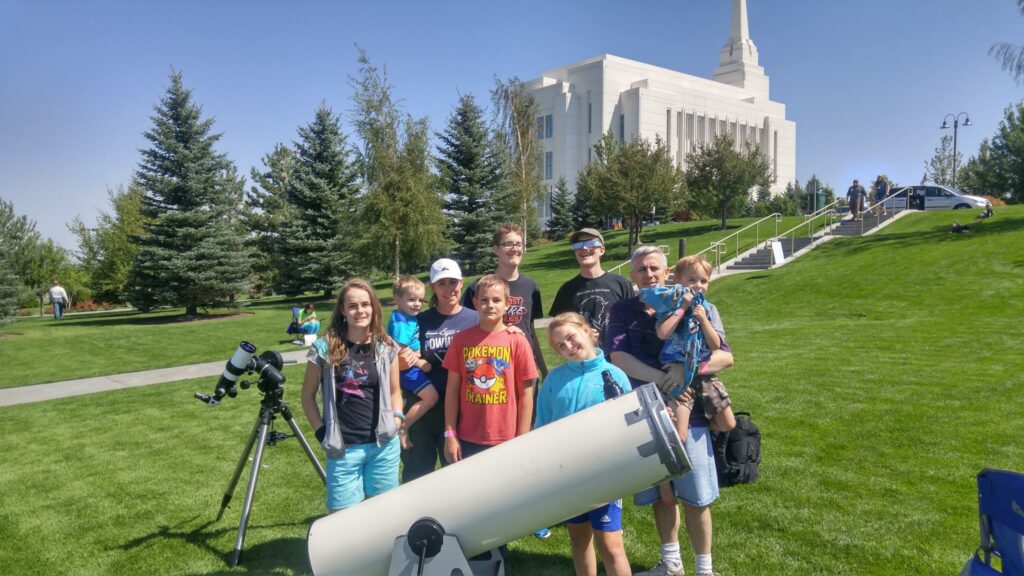 Ordering options
Note: If viewing this on a mobile device, you might need to rotate the screen to get the buttons to appear. These are
| Shipping Method | Shipping Cost | Quantity | Notes | |
| --- | --- | --- | --- | --- |
| Local pickup | free | no limit | Be sure to fill out your contact information so we can arrange time/location for pickup. | |
| 1st Class Envelope | $6.00 | up to 15 | Glasses will be pre-folded to fit in a small manila envelope. (5-7 business days) | |
| Ground Shipping | $7.50 | up to 25 | Shipped unfolded in a mailing tube (5-7 business days) | |
| Ground Shipping | $9.00 | up to 50 | Shipped unfolded in a mailing tube (5-7 business days) | |
| Priority Mail | $10.00 | up to 40 | Shipped unfolded in a legal sized priority mail envelope (3-4 business days) | |