I don't have the UPF Assault Carrier done yet so this week you'll be getting a new organization you can use in your game.
Those of you who follow along with the Detailed Frontier Timeline, either on the monthly posts here on the site or via the @StarFrontiers Twitter feed, may have noticed the introduction of a new organization into the timeline: Obar Enterprises.  Anyone that has played in my online games in the last few years has also probably run into, or worked for, Obar Enterprises.  And anyone that participates on any of the old online Star Frontiers forums might recognize the name since my handle on those forums is Terl Obar, the name of one of my early Star Frontiers characters and one of the founders of the company.
Obar Enterprises in My Games Today
The following description is the basis I use when players encounter Obar Enterprises in game, whether just in passing or as employees. This is not how the characters were originally created, as that involves the module adventures and the PCs might run through those. The section at the end of this post, entitled "The Real Story", tells how they were created and advanced in real life.
Background
The company is owned by two couples: Terl and Yala Obar and Leelab and Reesta Lar. Terl and Yala are yazirians while the Lars are dralasites. It's an unlikely pairing given their races, but they form a tight group.
Terl and Leelab, or Lee as he typically goes by, originally met years ago when they were hired as troubleshooters for the Cassidine Development Corporation (CDC). Terl was a medic with psycho-social skills and Lee was a weapons expert. Lee would often joke that he "took 'em apart and Terl put 'em back together." Despite the general prejudices of their races, the two hit it off and were often assigned on the same team. Over time, Reesta became part of their core team bringing environmental skills and Yala joined as a technician and computer expert. Others came and went from the team to fill in needed skills but the four of them formed the core.
Over time romance blossomed and the two couples were married. While this could have potentially been an issue, CDC was willing to bend the rules due to the effectiveness of the team. Had their performance dropped, they might have been split up, but since their performance stayed high, and even possibly improved, they had no problem staying together as a unit.
CDC, especially after very successful missions, allows its employees to purchase stock in the company. The four took advantage of that to greater or lesser extents over their time with the company. CDC has done well over the years and this allowed the Obars and Lars to build up a very sizable nest egg. After many years with CDC, the four decided that they were ready for something else. They had made many contacts over the years and decided it was time to work for themselves.
While at CDC they had picked up starship skills: Yala was a capable Pilot, Lee an Energy Weapons gunner, Terl had picked up the Rocket gunnery skill, and Reesta had picked up a lot of computers over the years and had become a passable Astrogator. They lacked an engineer but figured they could hire one.
Cashing out a small portion of their CDC stock, combined with a sizable chunk of their savings, they were able to purchase an old, used hull size 7 tramp freighter, the TSS Searcher, and get it up and running. Hiring a pair of engineers, they started hauling freight primarily between Dramune, Cassidine, and Prenglar with the occasional run out to Truane's Star as well. They organized their new endeavor under the name Obar Enterprises, Leelab and Reesta not wanting to put their name on it.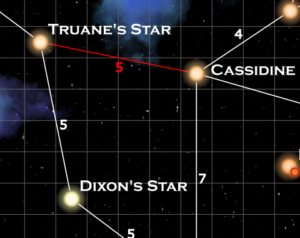 After about a year, they decided to take a gamble and chart a route through the Xagyg nebula from Cassidine to Truane's Star cutting the travel time between those two systems down from three weeks to just one. This would allow them to move desired commodities between those two systems quickly and turn a tidier profit. With that in mind, they loaded up the Searcher with a cargo at Triad, made sure the main and backup life support were topped off, and picked up several extra jumps' worth of fuel, just in case things went wrong. Ready to go they set off on this new adventure.
Luckily, nothing went wrong and they safely arrived in the Truane's Star system. Similarly, the return jump to Cassidine went off without a hitch. With the new jump fully charted, they decided to keep the route as a "company secret" figuring they could make more money having the private jump route than they could from reporting the route to the UPF. This turned out to be the case and they made a sizable profit over the years before someone else charted the route and reported it, making it a standard route on the UPF maps.
Not long after the new route was charted, Reesta decided that the merchant life was not for her. They had had several close calls with pirates over the years and especially since they had struck out on their own and she wanted to do something about that. She also missed the more structured life working for CDC but, not wanting to go back there, decided to use her starship skills to secure a commission as part of Spacefleet and help fight the pirate problem directly. She retained her partial ownership in Obar Enterprises but left the day to day operations to enroll in Gollwin Academy. Given her existing experience, she was fast-tracked through the program graduating in only a year.
In the intervening years, Terl, Yala, and Lee have continued to grow Obar Enterprises as Reesta has begun working her way up through the ranks of Starfleet. While still primarily a freight company, having expanded their ship roster to include several freighters and escort ships, they have also diversified some of their endeavors to include mining operations and, drawing on their experiences at CDC, some for-hire troubleshooting teams. It's also rumored that they have an exploration branch that is cataloging the unexplored systems in the Frontier but there is no public mention of this portion of their business. Reesta currently commands an assault scout as part of Task Force Cassidine.
Current Activities
Terl, Yala, and Lee still typically make the run between Cassidine and Truane's Star, although now in their company's flagship, mobile headquarters, and their home, the TSSS Morning Glory, hull size 20 freighter.  In addition to their freight hauling activities, they have a couple of mining operations on Pale and New Pale in the Truane's Star system, as well as one on Rupert's Hole in the Cassidine system.
From their time at CDC, they still have many contacts in that corporation as well as contacts in Spacefleet (through Reesta) and in the Pale government on Truane's Star. They will often contract with those organizations to do specific jobs that those organizations don't want to be associated with directly or don't have the manpower to pursue. As part of this portion of their business, Obar Enterprises maintains a small band of troubleshooters that they can assign out to various missions and assignments much like a small mercenary company.
The rumored exploration activity is also a reality although it is not something they talk about. OE has purchased a Moraes class exploration vessel and have a crew exploring all the systems between Truane's Star and Scree Fron. As part of this they have discovered a habitable, although uninhabited world, that they are working on a plan to develop and colonize. The TSS Searcher often disappears from the Frontier for weeks at a time to deliver supplies to this system. All of this is a secret company project.
Current Resources
Ships
Obar Enterprises has a number of ships operating around the Frontier. In addition to the Morning Glory, they still have the TSS Searcher in operation, along with a hull size 6 Pacific class freighter, the TSSS Dark Rose. They operate two Stiletto-class assault scouts, the OESS Courage and OESS Excalibur, that typically serve as escorts for the Morning Glory.
For their troubleshooting teams, they developed a small, hull sized 2 spacecraft.  The prototype, the TSSS Dart (StarFrontiersman issue 11) has now been in operation for about 3 years.  They currently have three of these ships commissioned, the Dart, Bolt, and Quarrel, with a fourth, the Flechette, scheduled to be built in the future.
Their exploration ship is registered as a yacht, the OESS Enterprise.
In addition to the ships above, they have another hull size 20 freighter currently under construction in the Triad starship construction center. The OESS Dusk's Radiance will be Lee's primary ship when it is completed in the next year.
Installations
To support their shipping operations, Obar Enterprises maintains offices on the major stations in Truane's Star, Dixon's Star, Cassidine, Prenglar, Dramune, and Fromeltar. Being a registered corporation on Pale, they also have an office in Point True but it is minimally staffed as their true headquarters is onboard the Morning Glory.
As mentioned above, they have mining operations on Pale, New Pale, and Rupert's hole. Additionally, they have a mine on an asteroid somewhere in the Truane's Star system and it's rumored they have a compound on Laco in the Dixon's Star system. There are also rumors of another complex built into an asteroid in the Cassidine system but nothing is know about that complex if it exists (GM Note: it does, but it's in the Truane's Star System, not Cassidine, and it's different than the mine).
Finally, they have a small science installation on the surface of a planet in the FS42 system and are in the process of constructing a small station in orbit around that planet.
Responses
Obar Enterprises is a fairly typical small business but has very deep pockets when it comes to resource acquisition. The nest egg from their time at CDC is very large although they don't really need to tap into it for regular operations due to successful business over the years and careful resource management.
The Obars and Lars don't need to work. They have so much money that they could retire and live extravagantly at any time. They work because they want to and endeavor to make sure that their employees are well taken care off. Because of this, their employees are quite loyal.
Individually and as a company they are much more willing than would be expected to take on risky or adventurous endeavors just for the excitement of it. Since money isn't an issue, a material loss is not a major setback. On the flip side, they don't hold back when defending their own and will bring all available resources to bear on any threat to their assets and especially to their people.
Overall, Obar Enterprises is a friendly, upright organization but are willing to take on risk and expend resources to achieve their goals. They will not start a fight but if one breaks out, they will end it as quickly and overwhelmingly in their favor as possible. I'll probably go into more detail about Terl, Yala, Lee, and Reesta themselves in a future post.
Plot Hooks
PCs might interact with Obar Enterprises in a number of ways if you include the company in your game. These include, but are definitely not limited to:
Employment – As former adventurer's themselves, they look for those type of beings to fill the ranks of their workforce, especially their troubleshooter/mercenary division. The PCs could be hired as a troubleshooter team for the company and assigned missions for the company or contracted out to other organizations. Or they could be recruited in the exploration division. They will have fairly wide latitude in how they proceed. They will be given objectives, not processes.
Competition – Maybe the PCs will be going after the same cargo, target, or other objective as a team from OE. They'll have to use ingenuity and resourcefulness to win out as the OE team will be well funded and equipped.
Collaboration – Maybe the PCs work for an organization that has contracted OE for help and some number of NPCs from OE will be working with them.
These interactions could occur in any of the areas where Obar Enterprises have interests or activities.
The Real Story
So that's Obar Enterprises as I currently use them in my games. If we were playing D&D, the company would probably be considered Neutral Good. They want the Frontier to be a better place and follow the rules when possible but are not afraid to color outside the lines when that gets better results.
While the history given works in a generic campaign, that isn't how the characters got to where they are.  Terl, Yala, Lee, and Reesta were some of my earliest characters when I first started running and playing Star Frontiers, along with four others, a human couple and a vrusk couple, that I used sort of as test cases for all the modules.  As a group of eight, I ran them through all the published modules, very much in the order that I talked about in my Module-based Campaign posts.  They left CDC sooner than described (and joined it later), joined the Clarion Royal Marines, and participated in the Beyond the Frontier series.  I've removed those references from their current form so that those adventures can be used for PCs in the game.  If you don't plan on using those adventures for the PCs, feel free to add those details back into the background of the OE crew and give them contacts and connections in those systems.  They might even be local celebrities in certain parts of the Frontier.
The CDC investment came from the Mission to Alcazzar module. That module has a table you can roll on to see how their investment does. It's way too generous with only a 20% chance that something bad will happen (90% loss or 50% loss – 10% chance each), a 20% chance there will be no change, and the other 60% of the time the investments will multiply by 2 (20% chance), 5 (20% chance), 10 (10% chance), or even 50 (10% chance). So if you invest the 5,000 Cr. the module allows and let it ride for a few years, you're probably going to have a lot of money. I'm sure I fudged some rolls in my early teens toward positive results. The listed value of that "nest egg" on their character sheets is in the hundreds of billions of credits. Each. But given the generosity of the table, that can be achieved in just 10-15 years of random rolling which is why I spread it out over more time in the write up. They really can buy anything that they want if it is for sale.
In the character and ship sheets, the TSSS Dark Rose is really the Gullwind, acquired as part of the Dramune Run module. That was the ship they started with and used to plot the jump from Truane's Star to Cassidine. The Searcher came later as their second ship. Also, they have never cashed out their CDC stock. Acquiring the Gullwind for free, plus the money saved from the other KH adventures where they were well paid, provided enough capital to get started and they've done well and grown their resources. I used to play out running cargos around the Frontier. Each ship sheet has a strip of cellophane tape across to top with its operating budget written in wet erase marker (dry erase wasn't a thing). I'd worn out the paper writing and erasing all the time that I hit on that as a solution.
I have a folder full of papers detailing the characters, their ships, and their installations. A lot of those probably need revising from the wild imaginations of my teenage self and updated with a dose of realism. There's also a notebook containing the full plan for the FS42 system. I had originally placed their system where Belnaefar is located on the Zeb's Guide map but that was before I owned a copy of Zeb's guide. I had placed Benaefar in the system down to the left (FS22) originally. With the move of Belnaefar, I've simply moved the location of the OE system (named Sadar in my notes).
Otherwise, the outline provided is pretty true to how I originally envisioned and ran the characters. The only other major difference is that Reesta never really participated in the OE endeavor other than to be a part owner, she, plus the other four from the group, went right from the Beyond the Frontier series of adventures into Spacefleet. They get together as often as they can when the Morning Glory is in Cassidine and she's not on patrol.
That's Obar Enterprises as it currently exists in my game and how it came to be. I'm sure there are details or other information that I left out. Let me know what you like about the write-up and where it could be improved in the comments below.