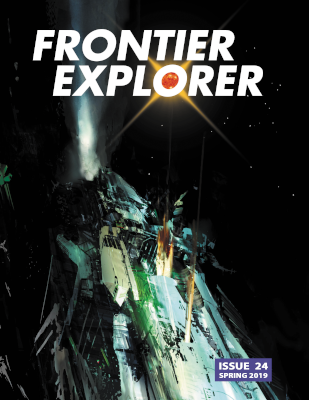 I'm going to assume that those reading this blog have heard this already from another source but just in case you haven't, Issue 24 of the Frontier Explorer is now available for download from DriveThruRPG or on the magazine's website. Here's the announcement text:
Hello Explorers!
Welcome to issue 24 of the Frontier Explorer. Now that Spacefleet has cleared out the recent sathar incursion, we can start publishing again.
This issue picks up right where we left off including some articles that were ready to go but didn't make it into issue 23. All of the usual articles (Jurak Hangna, comics, etc) are here along with articles about derlict spaceships, and some not so derelict ones along with an small mini adventure in our Warriors of White Light 2 series.
The biggest change is that we've moved to a new layout and design for the magazine's cover, logo, and interior. Let us know what you think about the changes and any suggestions or ideas you might have to make it even better.
This issue continues and strengthens our support for the FrontierSpace RPG in addition to Star Frontiers. Issue 23 had a conversion of the Star Frontier races to FrontierSpace. This issue contains the details of a star system from the FrontierSpace frontier sector as well as stats in the Jurak Hangna creature article for use in that system.
The full article list for this issue is:
Frontier News
Dark Shadow's Revenge
Duergan's Star System
Of Lost Ships and Derelicts
Exploring a Deserted Spaceship
Meet the Crew of the SS Knight Owl
Titan Rising: 2299 #17
Kdikit Blue Biters
Ghostship of the Terran Queen
Escape Run #3
Grab your copy today and as always, keep exploring!