I hope this post finds you well, healthy, and safe as we navigate these troubled times. Luckily for us, we've managed to avoid any illness (other than allergies are hitting us hard) and everyone has remained employed. I worked from home before this all hit and the only real change from my day to day routine is that I now have to supervise school work for my kids. Of course that means less time to work on gaming projects. My wife is a college professor and for her things, actually improved in some ways as she could still go into her office but doesn't have as many distractions every day. It has been a strange time and hopefully we all pull through it without too much damage.
Looking Back
Despite everything going one, I managed to get a new post out every week. The last post (Starship Construction in the Frontier) was only an hour late. I had actually finished it the night before but forgot to queue it up and then was busy in the morning. Otherwise, we had the usual Detailed Frontier Timeline post to start the month followed by the miniature post, this time about the Agriculture Ship. The final post of the month, which was part of the RPG Blog Carnival, was an update to my star sector map generator, this time adding in a graphical user interface making it easier to use.
Now, back at the end of last month, I talked about doing a post on the True Yazira secret society. Which you may notice I didn't get to. That was actually a conscious decision. That post will probably come in June, when I'm hosting the Blog Carnival with a theme of "Organizations". But more on that next month.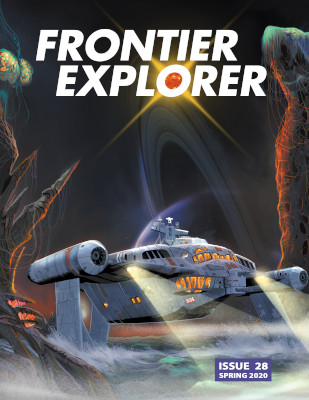 The other major thing that happened this month was that I finished and published the next issue of the Frontier Explorer. Issue 28 represents seven full years of publishing, even including the year we took off. If you haven't gotten a copy, jump over to the Issue 28 page on DriveThruRPG and grab one. As I'm writing this, there have already been over 600 downloads of the issue. I'm quite happy with how it turned out.
Otherwise, most of my other behind the scenes activities were completely obliterated by the changes and school closings due to COVID-19. I haven't even looked at my book. I also didn't do any work on migrating or updating the websites. The other thing that suffered is my modeling efforts. I didn't get a chance to work on any new models this month. There were also a few days when I fell a little bit behind on some of my timeline posts on Twitter but I got caught back up and back on track. Although I do need to sit down and get a little bit ahead of that project.
Looking Forward
This month will start with the usual Detailed Frontier Timeline post. The second post will probably not be a new model. I hope to have one later in the month but I don't think I'll have one ready by then. Instead the second post will probably be a spin off of my starship construction post. I've been thinking a lot about that and had some good discussions on Facebook and I've got another post in the work looking at the logistics and economics of space travel, again looking at how that affects the number of ships to expect in the setting. I have no idea what the final post of the month might be as the topic for next month's Blog Carnival is still TBD. I guess we'll find out together.
The other thing that will be starting this month is that I'm going to start running an on-line Star Frontiers game. I'm going to shoot for a weekly game but it might end up being bi-weekly instead. We'll see how that turns out and I'll probably be posting on that as we go along. If nothing else, I'll be generating maps and adventures and can post those once the players have finished with them. It may also end up as an actual play podcast if the players are willing to let me record and post it.
The work on the Space Kids RPG hasn't started yet so that may also begin this month. Nick Landry, who is producing the game, is working hard and may get to the point where he needs my input. At this point, I'm just waiting on him.
What have you been working on this last month? Are there things you'd like to see me post about? Let me know in the comments below.