Hello everyone!
It's been a long time but I'm back to blogging and you can expect content to appear on this blog fairly regularly again. With the exception of the post about the Moonbright Stinger miniature, it's been over a year. I've just had too much going on and, honestly, been very distracted by other activities, to do much in the way of posting. That is changing.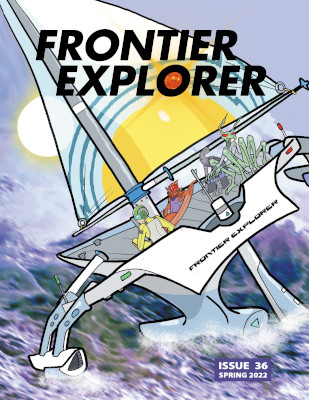 First, if you haven't seen it yet, I just released issue 36 of the Frontier Explorer. You can grab a copy at DriveThruRPG or on the Frontier Explorer website. This was the last issue of the magazine. I was seriously burnt out on producing the fanzine and had to force myself to put out every issue for the last year. I threw in the towel with this one. Thirty-six issues and ten years of production was a good run. It's time for new activities. If you want more details, check out my Endings and Beginnings article at the end of issue 36. A lot of what I plan on working on will appear here on the blog, either as entries or reports on "behind the scenes" activities.
That said, it won't be the last fanzine issue. Tom V., who I co-created the Frontier Explorer with, is going to revive the Star Frontiersman fanzine. So you can expect to see more content there as well. I'll probably write for the magazine, but I won't be producing it any more.
What to Expect
With that out of the way, let's look at what you can expect here at the Expanding Frontier going forward. I currently have no idea what my publishing schedule is going to look like. I hope to get back to a post a week, and maybe even more, but we'll see what happens. Here are some of the projects I'm going to be working on and posting about.
Detailed Frontier Timeline
First, I'm resuming the Detailed Frontier Timeline project where I am posting a day-to-day series of events going on in the Frontier, these posts go out daily on Twitter and monthly here on the blog. Currently, the timeline is in the thick of the opening events of the Second Sathar War. I tweeted nearly a month's worth of events back in February 2021 that never got posted here on the blog. That summary post will be the next one after this post. (In fact, it's already written. I just decided to get this post up before I posted that one).
If you want to get the daily updates, follow the @StarFrontiers account on Twitter or the #SFTimeline hashtag. I post these in the Star Frontier account instead of my personal account (@dagorym) and every post has the #SFTimeline hashtag. They will start back up on day FY61.382. Otherwise, my plan is to publish the summary blog post here during the first week of each month that collects all the Twitter posts from the previous month. So you'll be getting the summary from February 2021 in a day or two, Twitter posts starting back up, and the next summary post in the beginning of June.
3D models
I want to get back to modeling. I still have 5 miniatures from the Privateer boxed set to recreate and then it will be off to to the races creating ship models of my own design. Probably several space stations to start. I don't know exactly when I'll get started on this, but I hope to start working on models by the end of May. We'll see what kind of progress I make and how often I post these.
HSS History's Hope
Back in December 2020, I posted a set of videos showing how I was creating the deck plans for the HSS History's Hope, a ship that features in the Detailed Frontier Timeline. The idea was to both show the deck plans and talk about how I create them. I need to finish the deck plans for that ship. The question is, would you be interested in seeing videos of how I draw the remaining five decks or do you just want to see the final plans. If you want me to record the design/drawing process for the maps, let me know in the comments. I'm happy to do so, but that might delay getting this project restarted.
Regardless of whether I record videos of the deck plans being drawn or not, I have two projects in mind related to this ship, maybe three. The first is to do a Technical Manual for the HSS History's Hope like I've done for the UPF Assault Scout and Sathar Destroyer. It will include details of each deck, a bit of history on the ship, and its stats, all in a nice little manual.
The other project I want to do is a write-up of an exploration campaign to use the ship to search for the Yazirian homeworld, exactly what is happening in the Detailed Frontier Timeline. This is an ambitious project so I don't know if I'll be able to pull it off or finish it (I'm really bad at that), but I'm going to give it a go.
The third possible item related to this is doing a write-up of the History's Hope's travels as chronicled in the Detailed Frontier Timeline but in a more narrative form with additional details added.
Writing
Which brings me to my next topic, fiction writing. I have a short sci-fi novella, Discovery, that I wrote over a decade ago. While it's not exactly Star Frontiers, it's also not explicitly not Star Frontiers either. I wrote that novella to describe how I envision Void Jumping to work. I have a sequel planned and I might start working on that. And it's possible to tie this into the Star Frontiers universe if I wanted to as the story is about humans discovering FTL travel and they could discover the other SF races in a later novel.
However, more likely, I am going to keep working on my explicitly Star Frontiers novel, A Pale Survivor. That one is already half again longer than Discovery and about a quarter of the way through the story. This is a story of events on Pale during the invasion of that planet during what would eventually be called the First Sathar War. I posted the prologue to the story back in 2019.
I hope to spend some time every month working on one or both of these novels. If you'd be interested in seeing excerpts from the stories as I write them, let me know in the comments.
Technical Manuals
I mentioned the HSS History's Hope Technical Manual above. Once that one is done, I plan to start doing more technical manuals of other ships. I think this, combined with the 3D modeling, is going to become my main focus. This is where my interest is being drawn more and more and I think that's where I want to focus my time. We'll see if it happens.
Miscellany
There are a number of projects that I started here on the blog that I may or may not get back to. Hopefully I will, but I'm not making promises at this point. In addition, I have a list of (currently 8) topic ideas for one-off posts that are sitting in my draft ideas folder. Some of those might end up as posts on this site and/or articles in the Star Frontiersman.
Website Work
The other major project that I have planned is to redesign and revamp all the websites I host. This site probably doesn't need much work, but all the other Star Frontiers sites are getting pretty long in the tooth and need some serious effort and updating. I'll probably start with the Frontier Explorer site but the list of sites needing work include:
the Frontier Explorer website (frontierexplorer.org)
the Star Frontiersman website (starfrontiersman.com – this one is going to Tom V)
the Star Frontiers Revival forum site (starfrontiers.us)
the Star Frontiers Network site – wiki, game forums, and old website archive (starfrontiers.info)
my New Frontier Games site (newfrontiergames.com)
a couple of personal sites
My plan is to consolidate and streamline those sites and make them more user and mobile device friendly.
Related to this, I want to get all the articles from the Frontier Explorer online as individual HTML pages that can linked and referenced. Some of them are already online and that was the plan when we started the magazine but it fell by the wayside. I'm planning on putting my librarian hat back on and getting them all finished.
There are a host of projects involved with this effort and I'll report on them as they get completed.
Patreon
That's quite a list of projects. The last item I want to mention is that I have a Patreon campaign that supports the work on this blog. If you'd like to support me in my efforts as I work on the projects above, consider becoming a Patreon supporter. You can click the "Become a Patron" button on the upper right of the page (or this link) to sign up as a supporter. I need to update my patreon page to reflect what is going to be happening still and especially update the goals/rewards, but the general idea is still there. If you're already a supporter, thank you. If not, consider becoming one.
Last Thoughts
That's it for this post. There are a lot of things I want to do. We'll see which and how many of them I get to in the coming months and years. I hope to be here for the long haul but we'll see how it goes.
As always, feel free to leave me comments or suggestions below. I have several old comments that I need to respond to, but I will be more responsive going forward and am interested in hearing what things you'd like to see on the blog.